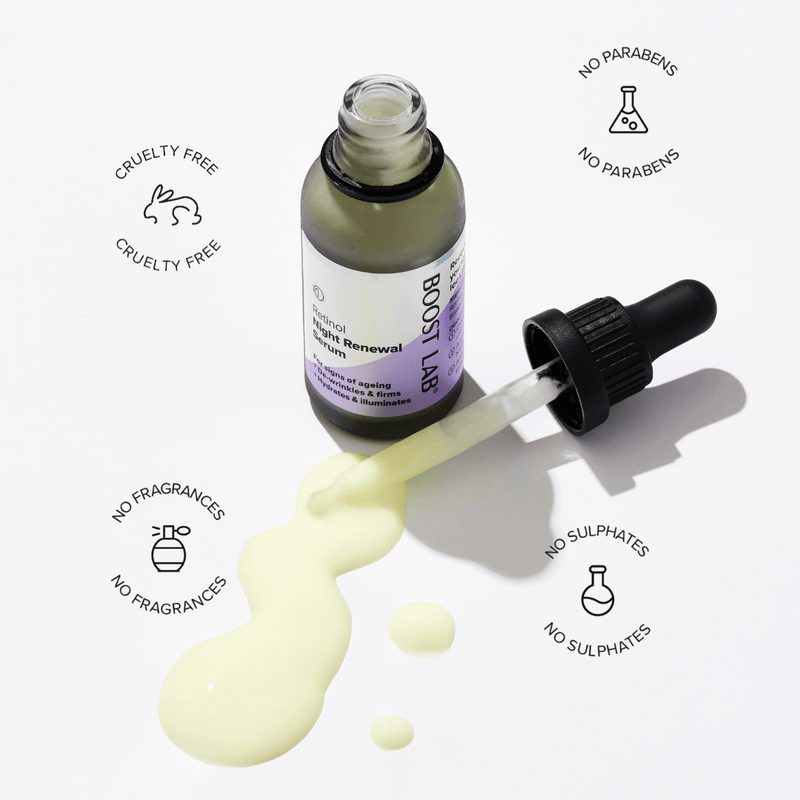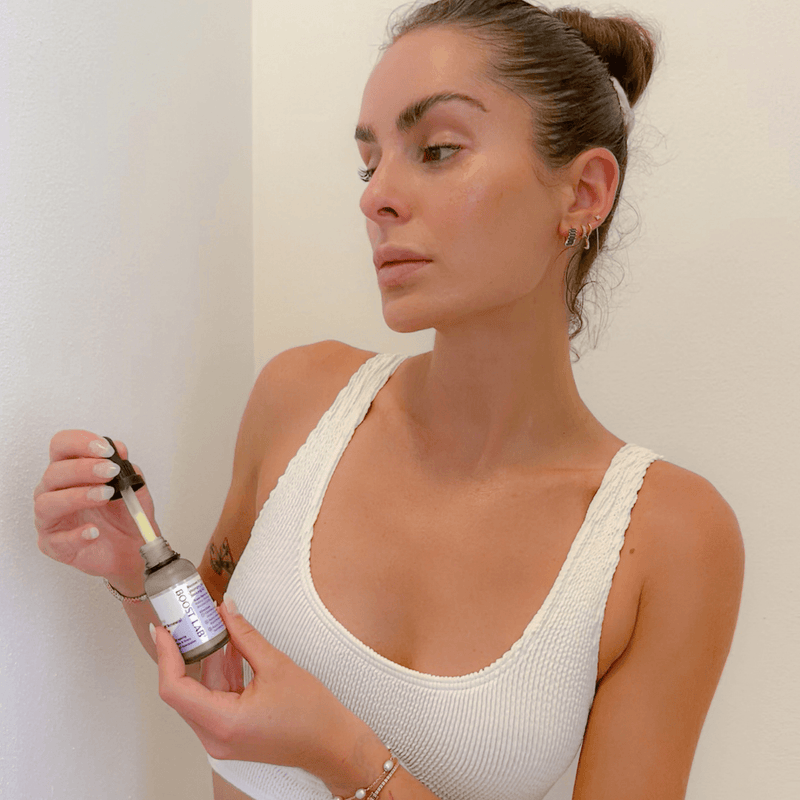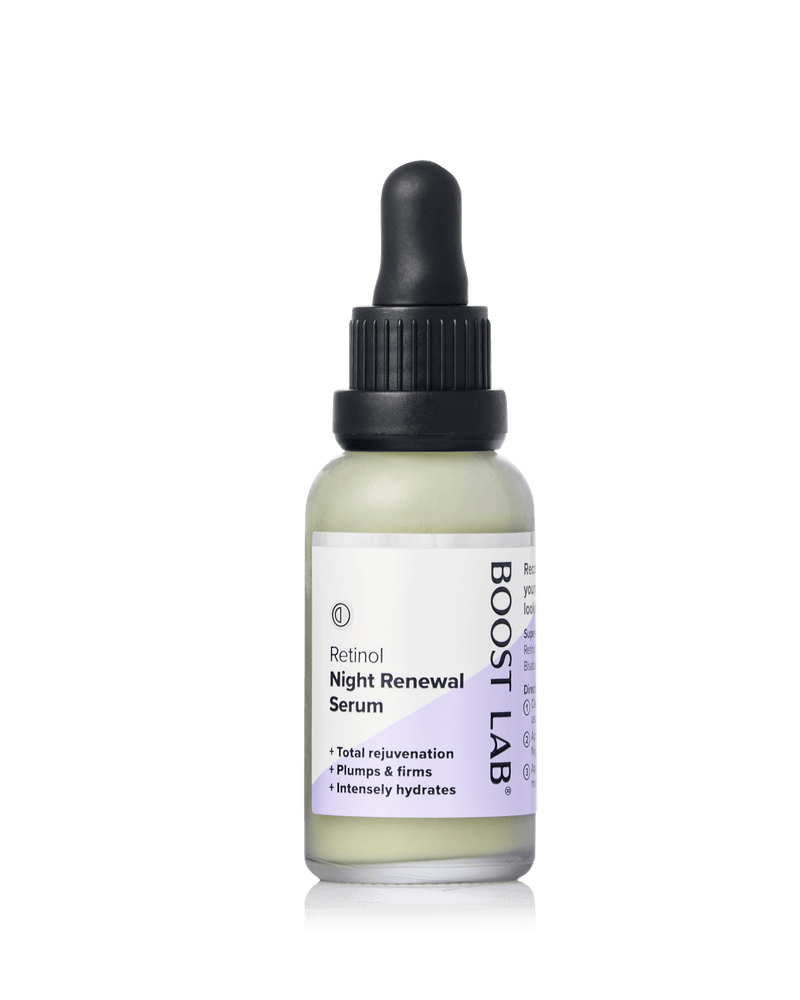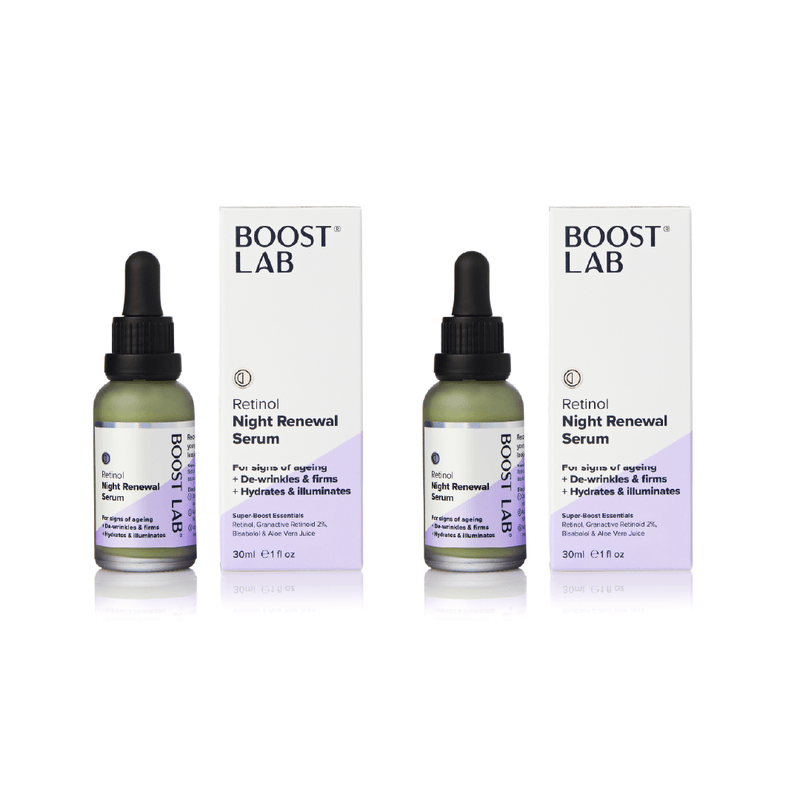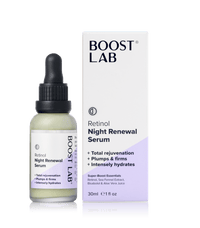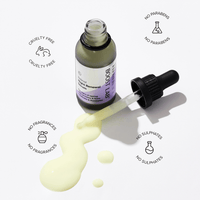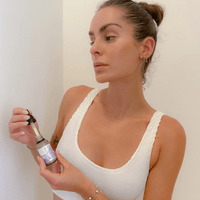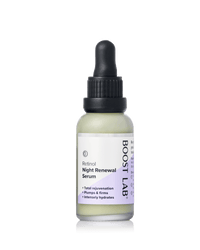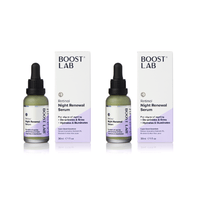 Retinol
Retinol Night Serum - Offer
Description
Our Night Renewal Serum is a night-time skin hydration formula designed to reduce skin damage that causes wrinkles, dry skin, loss of firmness and elasticity, and uneven pigmentation. It's the perfect renewal potion that works its magic, plumping and hydrating while you sleep so you can wake up with revitalised skin. 
Scientifically developed using the latest Gold Standard retinol and natural sources of Vitamin A plus:

• With soothing organic Aloe Vera and Bisabolol
• Dermatologically tested
• Oil free

Just the essential ingredients that each serve a purpose all at an affordable price point.

Used in combination with all your existing favourite moisturisers and cleansers, BOOST LAB serums gives your skin the boost it needs, when it needs it most.
What's inside
Only the Good stuff:
Key Actives
Crithmum Maritimum Extract, Retinol, Aloe Vera, Vit E, Bisabolol
Aqua (Water), Propanediol, Caprylic/Capric Triglyceride, Aloe Barbadensis Leaf Juice, Glyceryl Citrate/Lactate/Linoleate/Oleate, Glycerin, Retinol, Crithmum Maritimum Extract, Bisabolol (Natural), Tocopheryl Acetate, Xanthan Gum, Hydrogenated Vegetable Oil, Polysorbate 20, Trisodium Ethylenediamine Disuccinate, Citric Acid, Phenoxyethanol, Ethylhexylglycerin + Cruelty Free
*Our formulations are updated from time to time as part of our ongoing commitment to innovation. As such, the ingredients list above may vary from the physical packaging depending on the date and region of purchase.
Claims Disclaimer:
Claims based on supplier clinical test or published clinical trial of: *36 subjects (ages 40-65), single daily application of retinol moisturiser for 8wks, versus baseline; **28 Asian women, single and daily application for 8 wks, versus placebo; ǂ20 women, single and daily application of Aloe Vera cream for 1 wk.
What's not inside
None of the Nasties:
- No sulphates
- No parabens
- No fragrances
- No animal testing (AT ALL!)
Shipping & Returns
Shipping:
For all Australian orders over $50, we offer free, tracked shipping and estimate your new favourite serum will be delivered within 3-4 business days. For international orders over $100, shipping is free, however, for orders under $100, standard international rates apply (go on, add another bundle to your cart).
Once our team here in Sydney have packed and posted your order, we'll send you a confirmation email with a detailed itinerary of your serum's trip (aka a tracking number).
Returns: 
We want you to love our serums as much as we do. That's why we offer a 30-day money-back guarantee for first-time purchasers unsatisfied with our products. Simply get in touch and we'll get it sorted.
Our (digital) door is always open. You can reach us at info@boostlabco.com.
Just cleanse, apply and let soak in!
1
Cleanse your face with warm water
2
When applying to the face: Take 1-2 drops on fingertips of one hand, rub fingertips of both hands together and then apply to the affected area or entire face. Repeat if required.
3
Let the serum soak in and work its magic
Why we love it
Retinol
a form of vitamin A and a class of anti-aging compounds. l smooths wrinkles and lines (16% reduction of Crow's feet wrinkles, -20% cheek wrinkles, -39% of Crow's feet lines), with a 53% improvement in skin tone, giving you more supple and firm skin*
Crithmum Maritimum Extract
helps renew skin plumpness, elasticity and hydration to provide a radiant and fresh appearance. Stimulates skin cell proliferation; restoring thickness to skin.
Bisabolol
anti-inflammatory properties, helps fight acne, rashes, rosacea, psoriasis, and other skin irritations. Calms the skin, tones down sunburns and redness.
Aloe Vera
is used in skincare for its high moisturisation activity which helps calm and soothe dry and sensitive skin - leaving it feeling smooth and soft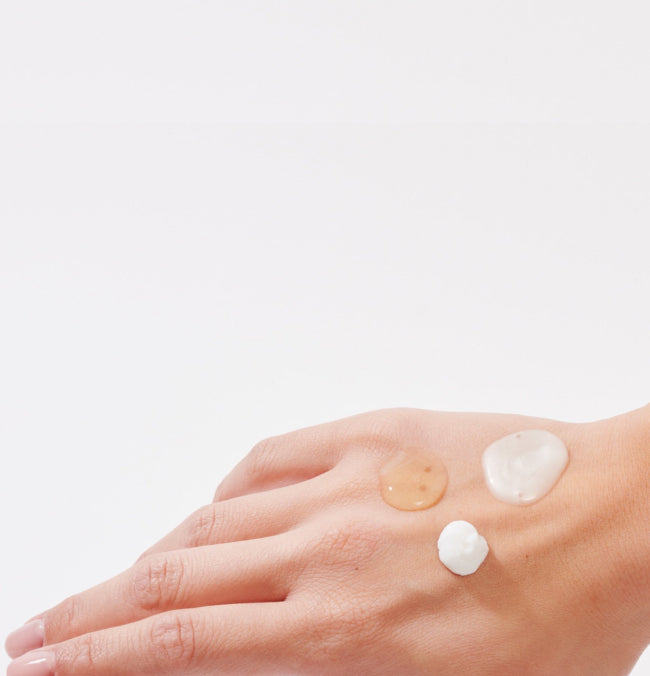 Try our Skin Advisor
Find your personalised serum recommendation. Powered by AI technology.
Try Now
Supercharged serums
without the supercharged price.
Dermatologically tested on sensitive skin.
Award winning serums all only $29.95 each.
Cart(0)