Boost Blog
When to apply retinol serum in your skincare routine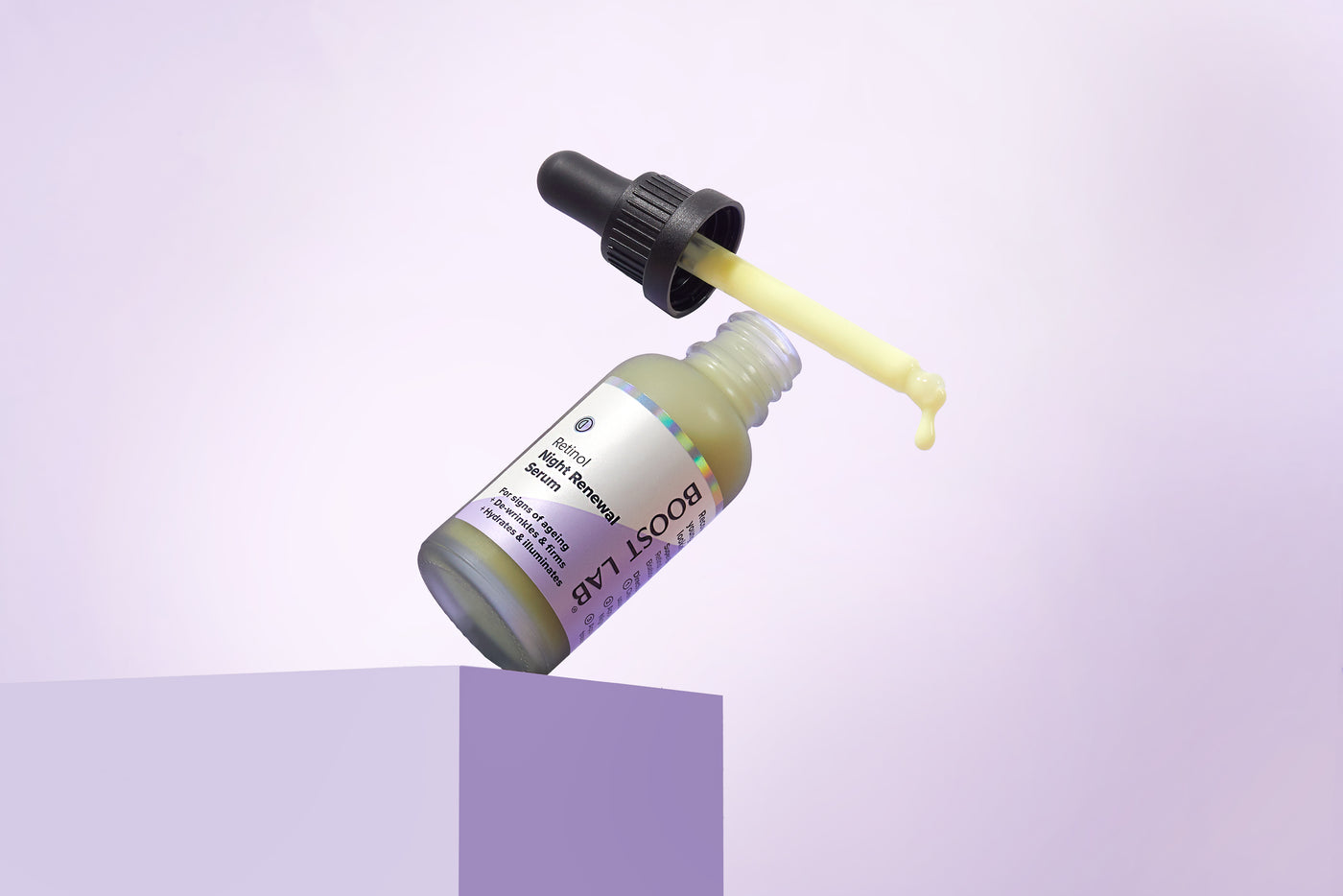 It's extremely likely you've heard of the beloved skincare superstar, retinol serum, but do you actually know what it is or when to use it? If the answer isn't an immediate yes, you need to read this complete beginner's guide to retinol - it'll be a gamechanger for your skin. 
What is retinol?
Retinol in skincare is derived (made from) vitamin A, and a form of retinoid. It's made up of tiny, tiny, molecules that when applied to the skin, make their way past the epidermis (the outer layer of skin) to the deeper skin layers. They work to neutralize free radicals which are all the cellular nasties in our skin, often introduced by an outside source like tobacco smoke, sun exposure, toxins, or pollutants. These bad cells are then kicked out to be replaced with younger, healthier ones for smooth, glowing skin.
Neutralizing free radicals is great because it helps boost elastin and collagen production to give the skin a beautiful plumping effect! 
What are the benefits of retinol serum?
Retinol has a range of benefits, they've been studied and proven to encourage cellular turnover, stimulate collagen, soften wrinkles, fade pigmentation, and give the skin an overall youthful glow. 
Retinol serum is a super skin-friendly solution that:
Minimises wrinkles & fine lines.

Increases skin elasticity and firmness

Promotes production of collagen to provide smooth skin

Evens skin complexion & diminishes dark spots.
When should I apply retinol serum in my skincare routine?
Retinol should always be applied at night for best results. It's especially sensitive to light, which is why it's good to keep it in your cabinet in a cool, dark place. If applied in the morning, it can actually attract light and create more unnecessary sun damage (instead of fixing it!). It's the perfect renewal potion that works its magic, plumping and hydrating while you sleep so you can wake up with revitalized skin - it'll do the work for you!
To apply retinol serum, it's a good idea to start with a pea-sized amount as your skin adjusts to a new product!
At what age should I use retinol?
Retinol is a fan-favourite for mature-looking skin, but that doesn't mean there's an age limit. Lots of people use retinol preventively from their twenties and see amazing anti-aging results. From 25, your elastin and collagen production begins to slow down so retinol serum should be your skincare priority. 
If you have wrinkles, fine lines, discolouration, or any skincare concern that is aging your appearance, retinol serum is the key to getting radiant skin. Anyone can use retinol and see for themselves this super ingredient!
What skin types can use retinol?
Retinol serum is safe for all skin types, but as with all skincare products, those with particularly sensitive or inflamed skin should make sure to start with a small amount once a week and build up to increased use. This is because your skin will need to adjust to the active ingredient as its introduced. 
Is there anything I should or shouldn't pair it with?
As retinol stimulates your skin to get rid of dead cells and replace them with young, fresh cells, the process of cellular turnover can dry out the skin. Combining retinol serum with harsh exfoliants only exacerbates dry skin, so if you have a vigorous exfoliating routine, we'd recommend doing it in the morning or having an alternating night routine to give your skin a break.
Instead, follow your retinol serum with a hydrating hyaluronic acid serum like this one for a little extra moisturisation. This will lock in all your active ingredients and form a protective barrier against any harsh nasties.
What retinol serum is best for my skin?
Don't be fooled - retinol is a proven, skin gamechanger but it doesn't have to come with a giant price tag. The Boost Lab Retinol Night Serum has all the key ingredients - Retinol to smooth out wrinkles and counteract signs of aging, Granactive Retinoid 2% for supple and firm skin, Bisabolal to fight inflammation, and Aloe Vera for hydration.
The Night Renewal Serum is a night-time skin hydration formula designed to reduce skin damage that causes wrinkles, dry skin, loss of firmness and elasticity, and uneven pigmentation. Scientifically developed using the latest Gold Standard retinol and granactive retinoids plus and dermatologically tested so expect some great results!
Just the essential ingredients that each serve a purpose all at an affordable price point. Simply apply 1-2 drops as required before you go to bed, massage into fingers, and apply to face. Super quick to do and super quick to see results!
All you have to do is let the Night Serum soak in and work its magic.
Feeling like a retinol expert? We hope that answers some of your questions - you can read up on another skincare spotlight ingredient Hyaluronic Acid here.
Do you have other skin concerns you want to address? Used in combination with all your existing favourite moisturisers and cleansers, BOOST LAB serums gives your skin the boost it needs, when it needs it most. Check out our full range of skin solutions here.
Supercharged serums
without the supercharged price.
Dermatologically tested on sensitive skin.
Award winning serums at accessible price points.
Cart(0)