Boost Blog
All about the skin-boosting benefits of AHA serums
Everything you need to know about AHA serums including what they do,
how to use them, and how they'll benefit your skin.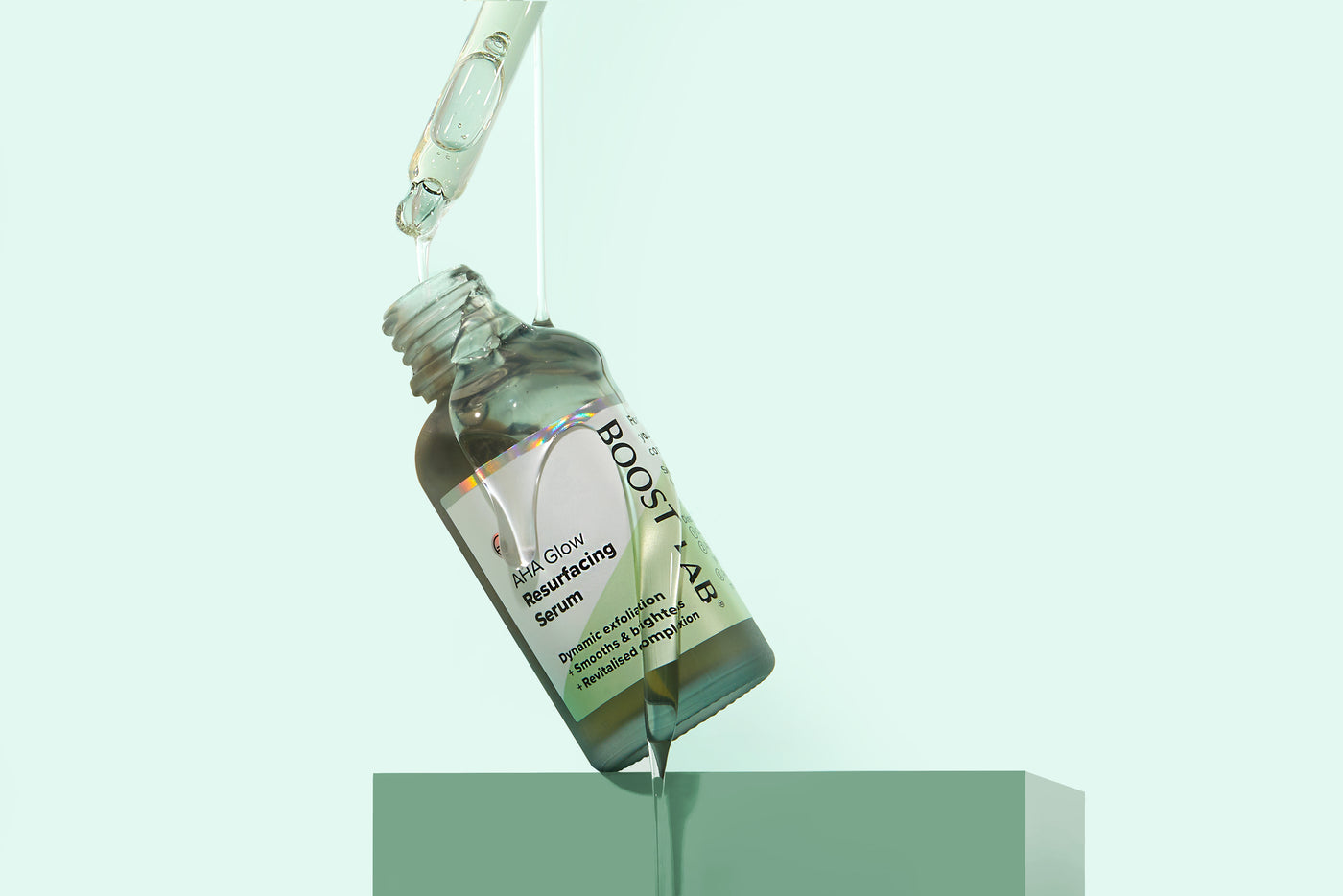 If you're not already familiar with the power of alpha-hydroxy acids (AKA AHAs), it's time we got you up to speed. This clever skincare ingredient has had the beauty world buzzing lately thanks to its incredible complexion-perfection abilities. When it comes to smoothing, evening, and brightening skin, AHAs are one of your best bets.
What are AHAs?
Here's the part where we get a little scientific. AHAs are types of naturally occurring acids derived from sugar cane or other food sources (like fruits). In fact, they're sometimes even called 'fruit acids' and they've been used for treating certain skin conditions for around 50 years now. 
The most common types of AHAs include:
Lactic acid
Glycolic acid
Malic acid
Citric acid
Tartaric acid
How do AHAs work and how can AHAs benefit the skin?
Now for the exciting stuff. AHAs boast some rather impressive skincare benefits due to their ability to 'peel' the skin with minimal risk. Peel may sound like a scary word but in skincare speak, this simply refers to the shedding of old surface skin cells so that newer layers can come through. AHAs work by loosening the bonds (which are a gluey-type substance) holding old skin cells to the surface of your complexion. This in turn boosts the skin's ability to renew itself by encouraging increased cell turnover and helps to:
Exfoliate away rough or flaky skin
Improve skin texture
Diminish hyperpigmentation
Clear acne and acne-scarring
Smooth away signs of ageing like wrinkles or fine lines
Our favourite AHA serum to try: BOOST LAB AHA Glow Resurfacing Serum
If you're keen to get started with AHAs, our favourite product is our AHA Glow Resurfacing Serum. Here's what we love about it:
The ingredients
Formulated with the latest resurfacing Gold Standard Lactic acid complex, this exfoliating serum
is incredibly effective for sloughing away dead skin cells. 

We've also got good news for our pals with sensitive skin: Unlike some other chemical exfoliants which may be overly harsh and irritating, BOOST LAB AHA Glow Resurfacing Serum is safe for you to use. To help soothe, it also contains Aloe Vera Juice and Manuka Honey.
The affordable price tag
At BOOST LAB, everything we create is based around the philosophy that skincare should be cost-
effective and accessible for all. Just like all the other serums in Boost Lab's range, BOOST LAB
AHA Glow Resurfacing Serum is priced at just $29.95 and can be picked up online via the BOOST LAB website or Adore Beauty.
It's easy to use
Wondering how to incorporate BOOST LAB AHA Glow Resurfacing Serum into your skincare regimen? It couldn't be simpler.
Here's how:
1. Begin with freshly cleansed skin.
2. Apply 1-2 drops of  AHA Glow Resurfacing Serum morning and/or evening.
3. Let the product soak into your skin.
4. Follow with your favourite moisturiser.
If you'd like more advice on layering this AHA product with your other skincare serums, check out our product order guide.
Supercharged serums
without the supercharged price.
Dermatologically tested on sensitive skin.
Award winning serums at accessible price points.
Cart(0)