Boost Blog
The Fantastic 5 Benefits of Aloe Vera for Skincare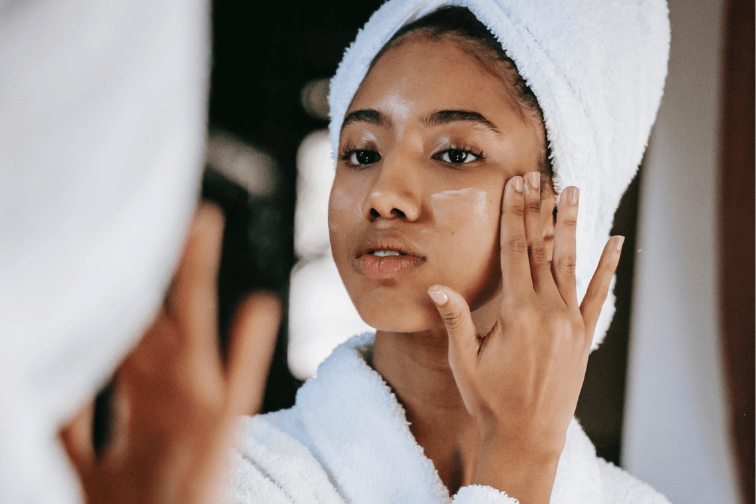 For a plant that naturally grows in hot, arid climates, the leaves of Aloe Vera are surprisingly super-rich with hydration properties! A skincare and health favourite of many different civilisations for many centuries, the leaves produce a gel jam-packed with vitamins A, C, E, and B12. If you aren't already familiar with the numerous skincare benefits of aloe vera, take this as your sign to add this super ingredient to your beauty routine ASAP!
Here are 5 fantastic benefits of Aloe Vera for skincare:
#1 Intensive skin moisturisation! 
Aloe vera gel is naturally made up of over 98% water and paired with a team of vitamins, minerals and nutrients that work together to plunge deep into the skin layers for ultimate hydration. How aloe vera works is that the 'mucopolysaccharides' (essentially sugar molecules) bind moisture to the skin, allowing aloe vera gels and serums to absorb easily into the skin.
Why is moisturisation so important for skin?
Daily moisturisation allows your skin to repair and strengthen its cells. As the body's largest organ, the skin is constantly involved in cellular turnover, so retaining moisture allows your skin to be well-equipped to regenerate cells without damage or skin problems.
Aloe vera acts as a fantastic moisturiser that works with your skin lipids to restore a plump and silky smooth texture to the skin. 
#2 Fades dark spots & uneven skin tone!
Many people struggle with hyperpigmentation or uneven skin tone, but did you know aloe vera has been championed as a natural ingredient to fade dark spots?
Aloe vera is thought to have some natural chemical properties that may fade excess deposits of melanin when applied topically to the skin. As aloe contains powerful antioxidant properties, it's a popular ingredient in skincare and dermatological treatments. 
Products with aloe vera may help to stabilise free radicals (the unstable atoms in our skin that damage collagen and elasticity in the skin, increasing signs of aging) and encourage an even skin tone.
Is Aloe Vera safe to apply to the skin?
Yes, aloe vera is deemed safe to apply to the skin for the majority of skin types and can be extra powerful with other skin-protecting ingredients in a carefully formulated serum.
#3 Soothes dry and sensitive skin!
Aloe vera is fantastic for dry and sensitive skin as it is rich in anti-inflammatory and antiseptic properties. This means it is able to soothe and reduce the itchiness of skin conditions like eczema and psoriasis and provide moisture protection without adding inflammation. 
Aloe vera works to stop the skin from drying out, which may cause the skin to become tight, flaky or crack. Aloe provides a soothing film over inflamed skin, that can result in immediate and substantial relief.
While aloe vera gel can be used to treat and reduce the discomfort of dry and sensitive skin as a reactionary measure, the added moisture and soothing properties of daily aloe vera application may also help to reduce the frequency and intensity of skin flare ups.
#4 Repairs signs of aging!
Yes, this miracle natural ingredient is also loved for its results on those keen to repair and reduce signs of aging in mature skin. Aloe vera has been shown to increase collagen production in the skin, which gives the skin a tighter, supple appearance and restores a youthful glow.
As we get older, our collagen production slows significantly, so ingredients rich in hydration properties like aloe vera are imperative for the skin.
Studies have also shown that aloe vera can significantly improve the appearance of fine lines and wrinkles over just a few weeks.
It's a favourite in skincare products to reduce signs of aging, as it encourages cellular regeneration by moisturising the skin, smoothing out wrinkles and lightening dark spots that often come with mature skin. Aloe vera may also encourage the production of elastin, the key protein in the skin to promote facial skin tightening.
#5 Aloe vera fights pimples and acne-scarring!
Is aloe vera good for acne?
Yes, the aloe vera plant extract has great antibacterial and anti-inflammatory properties, which has led to its use in treating acne, break-outs and even acne-scarring.
Aloe vera helps to control and fight nasty bacteria that may be encouraging acne and reduces the risk of spots breaking out. In some cases of acne, aloe vera's anti-inflammatory nature can help to calm angry and painful pustules or pimples, providing a cooling and soothing effect. 
It may also help to reduce the appearance of acne scars by encouraging collagen and elastin fibre production, the two fibres responsible for repairing scarred areas. Most studies demonstrating aloe vera's ability to improve the appearance of scars pertain to burn or surgical scarring, but anecdotal evidence suggests that similar positive improvements can be seen with acne scars. 
How do I use Aloe Vera in skincare?
Now you know just five out of the many benefits of aloe vera, you may be wondering how to incorporate this fantastic ingredient in your skincare routine.
Of course, most of us are going to have a large, healthy aloe vera plant in our living room to use directly or enjoy the feeling of the thick gel we use for sunburn on our face.
One popular way to get the most out of aloe vera's skincare benefits is in a carefully formulated serum.
One of our most loved products is the Boost Lab Retinol Night Renewal Serum, formulated with soothing organic Aloe Vera and Bisabolol to create a night-time skin hydration formula designed to reduce skin damage that causes wrinkles, dry skin, loss of firmness and elasticity, and uneven pigmentation. 
This perfect renewal potion works its magic, plumping and hydrating while you sleep so you can wake up with revitalised skin.
The aloe vera in the Night Renewal Serum provides a soothing, cooling effect that can be used in combination with all your existing favourite moisturisers and cleansers, and includes all the most high-end ingredients at an incredibly affordable price point.
This serum is amazing for those struggling with skin elasticity, dry skin and signs of aging.
The Boostlab AHA Glow Resurfacing Serum also harnesses the power of aloe vera as one of its key ingredients.
This Resurfacing Serum is a gentle and effective treatment that makes your skin feel fresh, smooth and clean! For those struggling with dry and sensitive skin, exfoliating with a serum that actively removes dead cells without the risk of micro-tearing is a rare find, so the AHA Glow Resurfacing serum should not be overlooked!
The aloe vera in the formula soothes the skin, supporting the natural cycle of skin-cell turnover while ensuring a smooth, bright, revitalised complexion.
The best part about these aloe vera facial serums? They take less than a few minutes to apply, absorb and activate within the skin. Simply cleanse your face with warm water, take 1-2 drops on the fingertips of one hand, and apply to the skin. How easy is that?
Want to try the amazing skincare benefits of aloe vera for yourself?
Check out the reviews on our soothing Retinol Night Renewal Serum and Boostlab AHA Glow Resurfacing Serum or shop our full skin solution range here.
Supercharged serums
without the supercharged price.
Dermatologically tested on sensitive skin.
Award winning serums at accessible price points.
Cart(0)