Boost Blog
Test Blog Post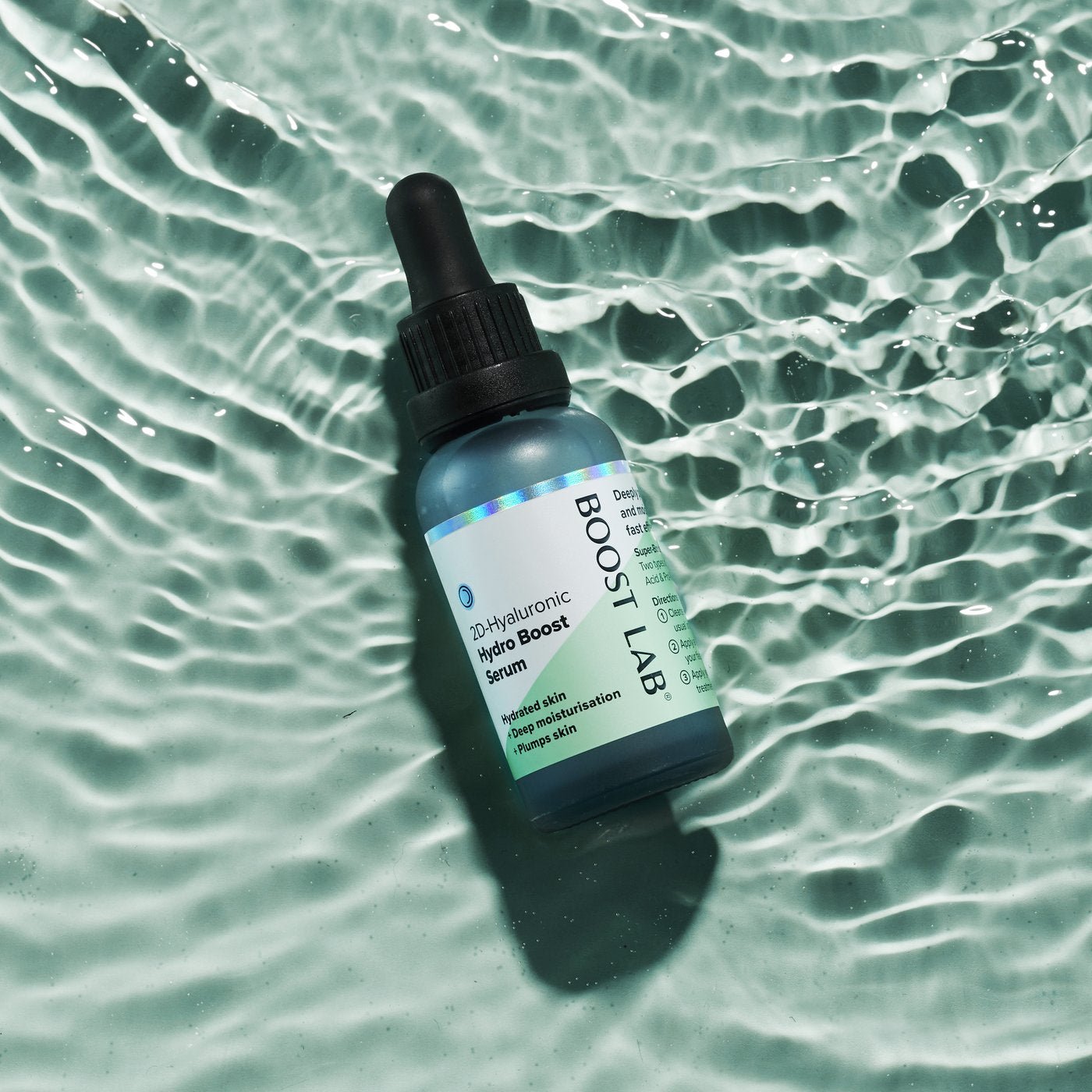 What serums are good for dry skin?
Until now, you may have been relying on moisturisers and face oils to get your daily dose of hydration. But if you are still dealing with the effects of dry and sensitive skin despite a strong skincare routine, you need something more serious.
A dedicated hydrating serum goes well beyond what moisturisers and oils can provide. They penetrate deep into your skin to create a protective layer that retains water – whereas moisturisers only work on the surface of your skin. That means a face serum can repair your dry skin and reduce the chance of scaling.
In terms of what to look for in a hydrating face serum, make sure the ingredients list includes things like hyaluronic acid, vitamin E, argan oil and ceramides. Most importantly, choose a water-based solution, as they spread across your skin with ease and deliver far greater absorption than the alternatives.
The mega hydrators
Here's a quick breakdown of the most important hydration ingredients in a top-quality hydrating serum:
Hyaluronic acid: This magical, moisture-binding ingredient is the best hydrator, with the ability to hold up to 1,000 times its weight in water. Hyaluronic acid attracts moisture and sends it to your skin's outer layers, plumping away those fine lines and wrinkles.

Panthenol: This humectant not only packs plenty of moisture into your skin, it also strengthens and seals the protective barrier to ensure water retention. 

Glycerin: A lightweight hydrator that works to absorb moisture, glycerin also mimics your skin's natural moisturising factor – a group of water-retaining molecules that maintain the skin's moisture levels and protect it from serious dryness. 
For more help with your dry skin read our Top 10 ways to keep your skin hydrated. 
What is the best hydrating serum?
At BOOST LAB we understand the frustration that comes with dry and sensitive skin, so we've deliberately designed our 2D-Hyaluronic Hydro Boost Serum to provide a super-charged hydration boost to lock in moisture, fight the signs of ageing and reduce the effects of sensitive skin.
Whether your skin is dry, rough, dull or irritated, our Hydro Boost Serum gets to work immediately. It forms a transparent film that locks in water and strengthens your moisture barrier to sooth and reduce the symptoms of sensitive skin.
The power of our 2D-Hyaluronic Hydro Boost Serum comes from a clinically supported moisturising system made of up 3 key actives:
- Hydrolysed Hyaluronic Acid (20-50kDa) at a low molecular weight allowing it to penetrate deeply and replenish the skin's supportive matrix. 
Hyaluronic Acid with Chondrus Crispus (algae extract) acts as an external humectant to the skin and 

Provitamin B5 (Panthenol) promotes skin barrier moisturisation and protection from irritation.
What is Hydrolysed Hyaluronic Acid?
We use Hydrolysed Hyaluronic Acid (20-50kDa) in our Hydro Boost Serum as it is a low molecular weight hyaluronic acid molecule that is able to penetrate all layers of the skin's epidermis. Compared to high molecular weight hyaluronic acid which forms an external moisturising film, this smaller hyaluronic acid molecule exerts a deeper moisturisation effect by helping skin cells of the epidermis to stick closer together thus reducing water-loss in the skin. 
Is Panthenol good for skin?
D-Panthenol (or Pro-Vitamin B5) is a simple molecule with amazing properties for dry skin that absorbs into skin without disrupting the skin's lipid layer, attracting water into skin and strengthening the skin's moisture barrier. Topical panthenol is effective for those with sensitive skin and helps to calm irritated skin, reducing visible skin redness.
Is vitamin C serum hydrating?
Short answer, you bet! Our Brightening serum contains Vitamin C  in the form of Sodium Ascorbyl Phosphate, one the more stable forms of Vitamin C as it is light, oxygen and water stable. Meaning our Brightening serum won't lose any of its potency. But more importantly it has a great hydrating effect on your skin as it decreases water loss through the layers of your skin allowing your skin to retain moisture so much better. Due to Vitamin C promoting collagen production, evening skin tone and hydrating this is one of the best hydrating serums for dry and dull skin.
What is the most hydrating eye serum?
We understand that the delicate skin around your eyes is easily upset, dry, dull, puffy or surrounded by dark circles so we designed a serum to help. Our Bio-Active Eye Reset Serum contains a number of natural extract, peptide and essential mineral blends with a total of 10 active ingredients that work in concert to visibly reduces puffy under eye bags and dark circles by strengthening the eyes microcapillaries (helping fluid retention and skin hydration)  and soothing inflamed eyes. Additionally the essential minerals and amino acids present help to protect skin against oxidative stress and immediately revitalises skin by boosting energy in cells that leads to increased skin oxygenation and natural collagen production.
Supercharged serums
without the supercharged price.
Dermatologically tested on sensitive skin.
Award winning serums at accessible price points.
Cart(0)